If you have Golden Rule stories, photos, drawings, newspaper clippings, or comments to share, send us a message. We're particularly interested in the Golden Rule's history from 1958 to 2006.
View some of the things our followers have shared so far:
---
Australian would-be protest boat Warana
June 30, 2013
Submitted by Brian K. Crawford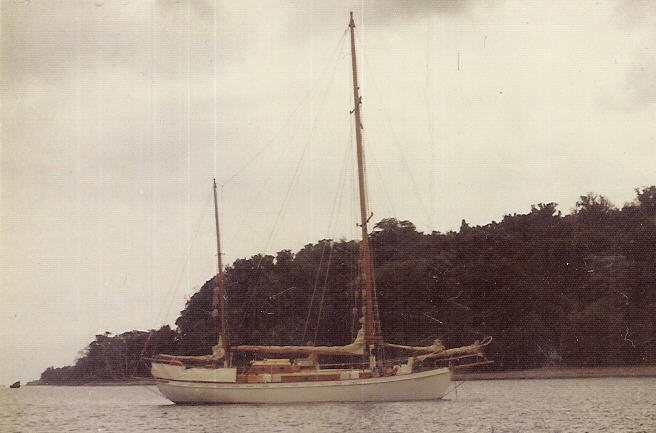 Warana, an Australian protest yacht that attempted to sail into the French nuke test zones in the French Polynesian islands. Mr. Crawford, a crewman, says they never made it to the test zone and gave up due to many problems.
---
Golden Rule anchored under the cannon
June 26, 2013
Submitted by Floyd Boyle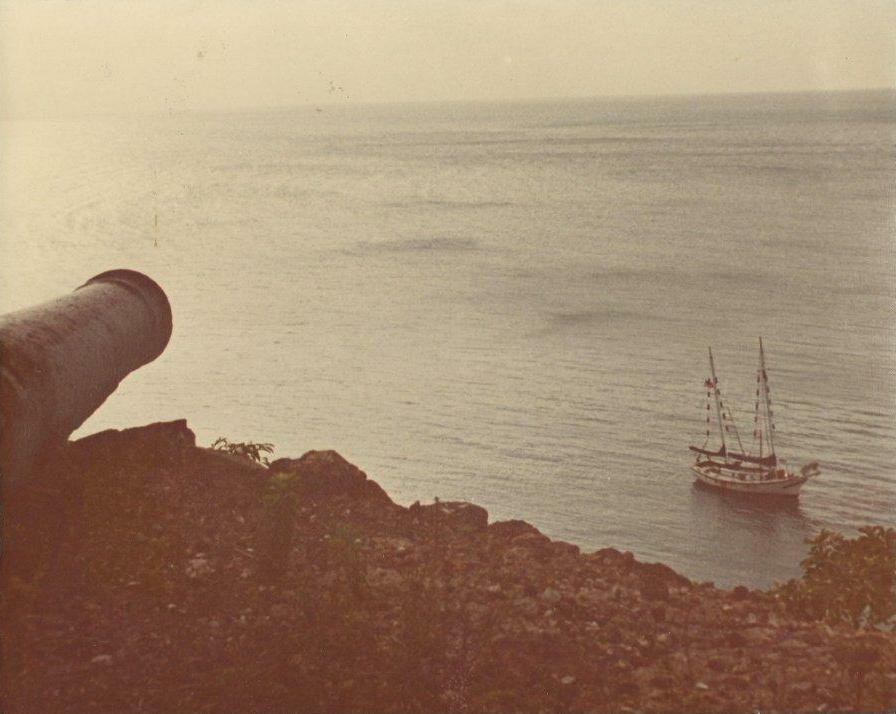 This spectacular shot of the Golden Rule anchored under the cannon off the coast of Providencia Island in the Caribbean, was sent by Floyd Boyle, a former Golden Rule crew member. Mr. Boyle said he was part of the crew that sailed GR through the Panama Canal and the Caribbean to Ft. Lauderdale, FL for owner Ed Rush in the early 70's.
---
From Albert Bigelow's Granddaughter, Francie
April 11, 2013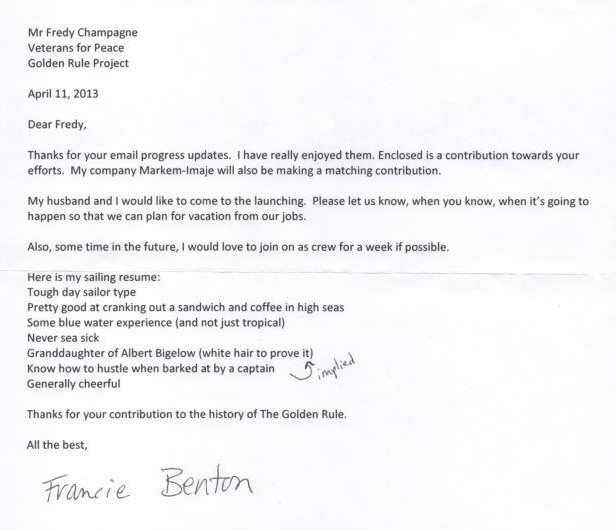 ---
From Albert Bigelow's Granddaughter, Kate Benton
June 26, 2012
From: Benton, Kate
To: Fredy Champagne
Subject: A story about my grandfather Bert Bigelow
Hello Mr. Champagne, I am one of Albert Bigelow's grandchildren (my mother Kitty Benton and her sister, Lisa Bigelow are the two children of Albert and Sylvia Bigelow). My mother just sent us (the grandchildren) the information about The Golden Rule Project. Just for fun I thought I'd share this memory: In the spring of 1989 (possibly 1990) – 31 or 32 years after the Golden Rule set sail, my grandparents (we called them, Grampy and Didi) came out to California to visit me and my husband, Jim. We went to the Friends Meeting at the Quaker Meeting House on Orange Grove Blvd. in Pasadena (now very close to where I live). A kindly gentleman stood up, and said (I paraphrase) "I don't want to embarrass him, but I recognize him and cannot be silent. Thirty years ago Albert Bigelow was in this very room attending a Quaker meeting before setting sail on the Golden Rule and he is here with us today". There were lots of hearty handshakes all around.
Best regards and thank you for your important work,
Kate Benton Doughan
---
Letter from Nelson Camp of The Camp Foundation
January 11, 2012
Dear Fredy,
For some background, the three sons of William (Bill) and Katherine (Kay) Camp received a small fund after their parents' deaths, set up to allow us to make contributions to causes that we care about. Bill and Kay themselves were passionate about sailing. Our mother taught our dad how to sail on their honeymoon, so sailing and caring for our sailboat was a major family activity that we all shared as we grew up. They were also passionate about the injustices of war, and the quest for peace in our times. Kay was our cub scout den mother, who gradually turned into a peace activist, becoming at one point US president of the Women's International League for Peace and Freedom. She was also a representative on the UN's Disarmament Committee for many years. In the aftermath of World War II, they had decided to become Quakers, because one of the testimonies of Quakers is to live your life in such a way as to render wars impossible. One of their sons spent two years in India serving in a rural health clinic, in a program sponsored by a quaker 'peace corps,' one son was a Conscientious Objector to the Viet Nam war, and one was among the first young Americans to visit China on a goodwill mission before the ice began to melt between the US and China. We had been raised under the specter of the Nuclear Arms Race, when fallout shelters were a craze, and countries tried to one-up the other countries by testing their nuclear weapons above ground, polluting the atmosphere. In the era when the polio vaccine was introduced, the big fear was Strontium 90 in our breakfast milk, and we thought that how much radiation one absorbed depended on which way the wind blew. We knew the fallout was bad for us, and we knew our government was trying to make us believe fallout shelters could actually protect us from it. We demonstrated for Nuclear Disarmament in Philadelphia, the city of brotherly love, and were called "Commie Pinko Fags." One of the Hiroshima Maidens, a Christian, whose face was disfigured by the blast, stayed with us. She gave us a gift of a cross, which had been formed when human bone had been fused by the tremendous heat of the A-Bomb onto the X-shaped links of a Japanese chain-link fence. It was the eeriest crucifix we had ever seen; a cross formed by death. In response to the cold war, our parents took Russian lessons, so they would be able to speak to the "enemy" behind the Iron Curtain. In fact, they did go to the USSR, carrying messages of International Peace to the Russian citizens they encountered, and even to their guides who were assigned to them at every moment. In October of 1962 we became aware of the now-famous brinksmanship between Kennedy, Castro, and Khrushchev, over Russian nuclear missiles in Cuba, and many were convinced by the radio coverage that we might all be blown up that very day. The Russians in Cuba would aim for New York and Washington, and we Philadelphians would asphyxiate in the fireball. Fifty years later, nuclear weapons are still a menace. Fukushima reminds us of natural dangers as well as geopolitical ones. Who can say what motivates the countries developing nuclear arsenals? Just today we heard the report that another Iranian nuclear scientist was assassinated. The above stories and elements are some of the reasons we want more people to support the idea being pursued by California Veterans for Peace. Quakers use the expression 'Speak truth to power.' The resurrection of The Golden Rule as a teaching vessel, bespeaking the truths of history and of today, can have an enormous impact.
Nelson Camp
---
Letter from Humboldt Friends Meeting
July 11, 2011
Humboldt Friends Meeting is thrilled to show our support for the restoration of the Golden Rule by the Vets for Peace of Humboldt County. Once the Golden Rule was rescued from the bottom of Humboldt Bay, it was the inspiration and initiative of the Vet's for Peace to bring this historic boat back to life and use it as a tool to "promote peace and diplomacy" throughout the world. Those of us in the Quaker community and beyond who remember the Golden Rule's courageous journeys into the nuclear testing zones in the Pacific ocean are very moved by the plans to restore the boat as an educational tool and messenger of peace. We encourage others to support their effort as well.
Humboldt Friends Meeting
Arcata, California
---
Letter from Southern Humboldt Worship Group
June 30, 2011
Dear Veterans For Peace friends,
Southern Humboldt Worship Group is delighted to see the restoration of the the Golden Rule both to its original seaworthy condition and to its mission of "waging peace" in the world. The ripples from its voyage toward the U.S. nuclear testing site in the Pacific were a significant contribution to the nuclear test ban treaty. (Its crew imprisoned, tried and convicted in Hawaii, the voyage was completed by Earle and Barbara Reynolds in the Phoenix, with resultant worldwide publicity and raising of awareness.) This voyage, recounted in Western Friends Reader, has inspired generations of Quakers. Crew members of both ships demonstrated the courage and willingness to face hardships and imprisonment that is sometimes required of us to live up to the Quaker peace testimony.
May the journeys of the restored Golden Rule continue to inspire, educate, and lead. The enclosed contribution represents a small token of appreciation to the Veterans for Peace for taking on this worthy project.
Blessings, Gail Eastwood, Convenor
Southern Humboldt Worship Group
Pacific Yearly Meeting
---
Grandmothers For Peace
Contributed by Lorraine Krofchok, Grandmothers For Peace
Spring 2011
In a small boat yard in Eureka, CA, covered by a blue tarp and in dry dock, is the Golden Rule. This 30-foot ketch-of-peace, as I like to call it, WILL sail again. My husband and I had the privilege to visit the boat and the volunteers from Veterans For Peace who are lovingly restoring her. The article by Larry Wittner [in the Grandmothers For Peace International Spring 2011 Newsletter] tells about the Golden Rule's history. As you read, recognize why Grandmothers For Peace is so tied to this boat, what we were founded upon, and what our logo means. And, note that Dr. Wendy Chmielewski [George R. Cooley Curator, Swarthmore College Peace Collection] brought the issue of the ship to the attention of members of the Peace History Society.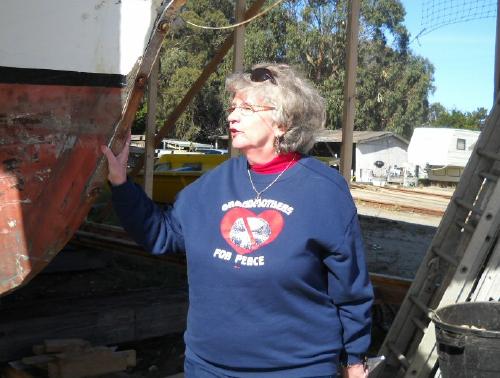 Grandmothers for Peace International newsletters are part of the peace collection at Swarthmore. Fredy Champagne, Project Coordinator and Sherry Champagne were kind enough to invite us to see the Golden Rule. We spent an enlightening day with them and the volunteers who are working on the restoration. I even have a small plank removed from the original hull – a treasure to me. On a personal note, one gets a "feeling" being near this amazing vessel. When you touch it, you are surrounded by the enthusiasm of the volunteers and you can "hear" her talking. I touched the bow, as you can see from the picture, and I certainly was "mind whispering" about things to come. And in a sudden moment the wind picked up, the blue tarp flutters and sounds exactly like sails in the open water (we used to sail!). I stood there, thinking about this restoration and imagined the Golden Rule ready to launch. We will be there for that day. We are faced with many problems. But, sometimes we need to focus on something good. Please consider supporting this project. This little ketch could be used to educate "the future" and how peace is the only alternative to constant war and aggression. Our oceans are bombarded with "war games." The Golden Rule could become a lead boat in a Flotilla of Peace. Think about that image!
Excerpted from the Spring 2011 Newsletter of Grandmothers For Peace International with the permission of the writer, Lorraine Krofchok, Director.
---
Serenity Sets Sail
February 4, 2011
By Amy Fontainer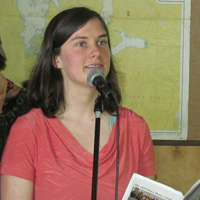 Top Honors in the 2nd Annul Redwood Coast Peace Poetry Contest went to Amy Fontaine for her poem inspired by the Golden Rule. Amy gave a stirring reading of her poem at the May 6, 2011 Peace Poetry Celebration. Here, then, is her note of introduction and poem.
Dear Veterans For Peace,
Hello! My name is Amy Fontaine, and I am a senior at McKinleyville High School. Attached is my entry for your Peace Poetry Contest. I wrote my poem about VFP's local efforts to restore the peace-ship Golden Rule; I read an article about the project in the Eureka, California, Times-Standard newspaper and it moved me deeply. The poem, "Serenity Sets Sail," was the result. Thank you for raising awareness of peace efforts in our community.
Sincerely,
Amy Fontaine
Serenity Sets Sail
The Golden Rule
swings out into
sparkling Humboldt Bay
waters,
with the wind in her sails
and deep-tree vitality
breathed anew into her weathered masts.
Former soldiers
as patient as the redwoods
found a way
to give her wings again.
She shimmers
across the surface
like a pond-skipping
dragonfly,
away towards our dreams
on some unforeseen shore.
Really,
none of us lives
for tooth and claw,
arrow and scar.
We live for the scent
of sunlit grass,
for a young child's laugh
upon seeing a snail
for the first time.
And this little boat
keeps her promise to the sunset,
venturing into the horizon
on her mission of peace.
Our hearts
go with her.
© 2011 by Amy Fontaine (with license to reprint granted to VFP)
---
Email from Sally Willowbee
January 25, 2011
We have heard from Sally Willowbee (Willoughby), the daughter of the late George Willoughby, crewman on the Golden Rule during its famous voyages in 1958. In her email she is responding to our open invitation to families of all former GR crew members to sail with us at some point after restoration is completed.
I'll be there if I have to walk!!!!!!!!!!!!!!!!!!!!! I don't know if this little tidbit of information will help………but here it is: in the late 60′s early 70′s I hung out on another peace boat, the Montcevideo with Scott Herrick in a boat yard in Ft. Lauderdale (in 1971 we sailed to Cuba as a War Resisters League Project)…..anyway, and what boat comes in to Ft Lauderdale but the Golden Rule. This is what I remember about it. The name of the boat was changed by the person who bought it directly after the action in 1958. This person bought, maybe from that first person and changed the name back to Golden Rule….he was quite proud of the history of his little boat….and had the original log and a copy of the book. He was quite delighted to meet me. If the name of the boat yard would help, I might be able to contact someone who would remember it.
peace,
sally
---
Drawing from Scott Stoll
December, 2010
Attention Golden Rule Project:
So happy to discover that the Golden Rule is being saved. I sailed on the GR for about 4 months when I was 19 years old while the then owner, Ed Lush, was sailing in the Carribean. We had many adventures; I was a recent drop-out from West Point and while on board, I read and was inspired by Albert Bigelow's Voyage of the Golden Rule. I would later in life become a VISTA volunteer, a Peace Corps Volunteer, Homeless advocate, and worked in the Underground Railroad assisting Central American refugees. I have attached some drawings that I did while on board the Golden Rule….not great art but a bit of history, just the same. The main mast was snapped off in Cap Hatien, Haiti on our way home and we hobbled in to Ft. Lauderdale with the assistance of a tow from the coast guard…
Sincerely,
Scott Stoll