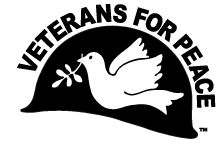 The Golden Rule Project gained Veterans For Peace national project status in January of 2012. Since then, we have received many letters and resolutions of support from VFP chapters across the country, including a letter from former VFP president Elliott Adams.
---
Letter of Support from VFP President Elliott Adams
January 27, 2012
Dear Fredy,
We may feel the hope of the Occupy Movement, but we cannot forget that we now have the largest military budget in the history of the world. And, when we have 8,500 nuclear weapons stock piled (each one of which is many times larger than the Little Boy dropped on Hiroshima and each of which is a threat to human life), our country is restarting the nuclear weapons development and manufacturing process. Yet, any level of reason or sanity, not to mention world treaties signed by 133 nations, demand that we be dissembling weapons not building them. And, all rational thinking says we should abolish war, for the good of mankind, for the good of our little blue planet.
It is obvious this a time when we must increase our out reach and organizing against nuclear weapons and against war to save our country from her own suicidal tendencies. The Golden Rule will be a powerful out reach effort. She will be a curiosity where ever she is, many people are attracted to boats, her story is an inspiration to all of us, she will attracted local media attention and all of that will be used to deliver the message of peace and motivate people to work for peace.
Until the Golden Rule Project started I had no idea of the potential outreach a boat could have. She will be able to sail and potentially reach every port on the West Coast, the Gulf Coast, and the East Coast. But there is also the Mississippi River system, which reaches North to Minnesota, East to Pennsylvania and Tennessee, West to Kansas and Oklahoma. And then there is the Hudson River connecting to all the ports in the Great Lakes.
We live in a moment of time when we need to think of new ways to outreach with the message of peace, and that Golden Rule fits that need. Let me know what I can do to support your work.
Elliott DS Adams
National President
Veterans For Peace
---
Resolution of Support from VFP Chapter 101
September 12, 2012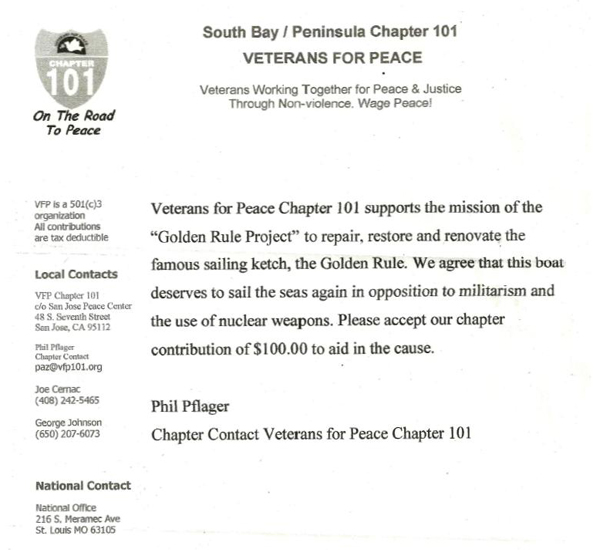 ---
Donation from VFP Chapter 56
July 31, 2012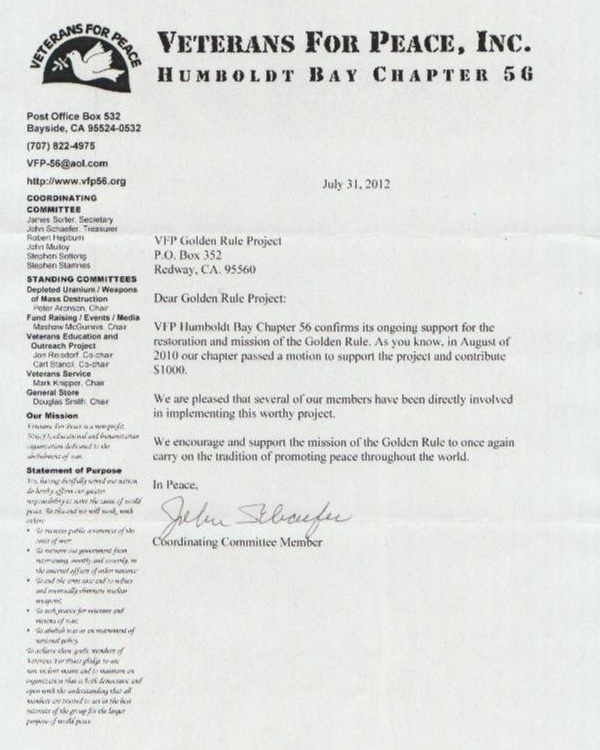 ---
Donation from VFP Chapter 69
July 27, 2012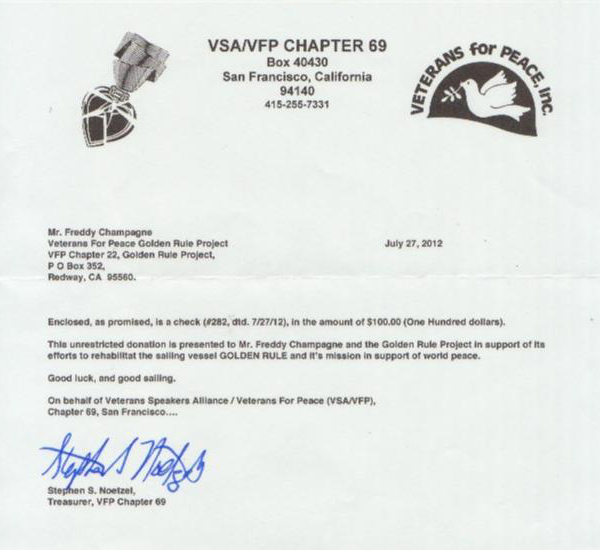 ---
Donation from VFP Chapter 71
June 10, 2012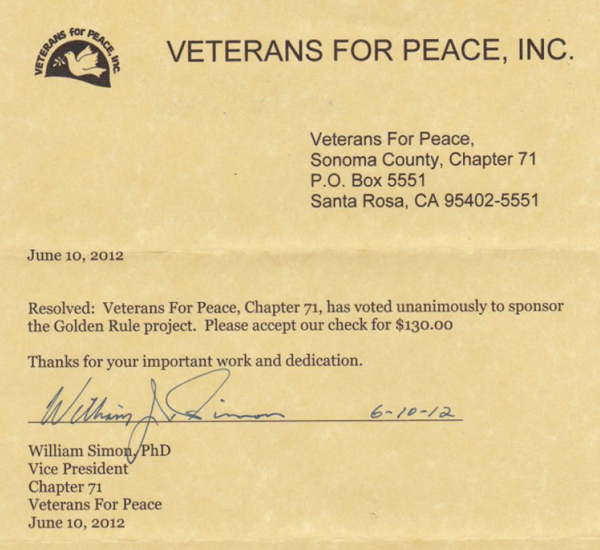 ---
Resolution of Support from VFP Chapter 91
June 12, 2012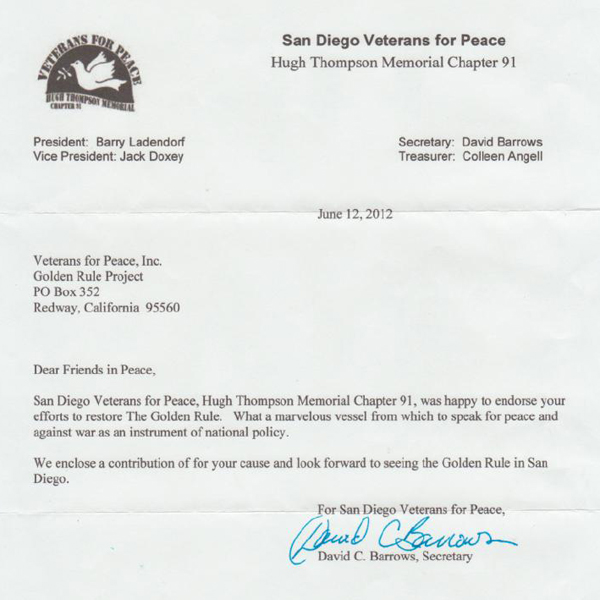 ---
Resolution of Support from VFP Chapter 61
June 5, 2012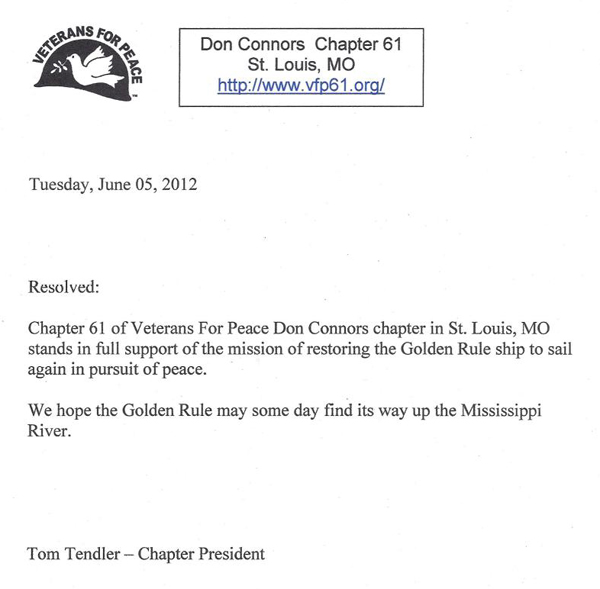 ---
Resolution of Support from VFP Chapter 57 Will Miller Green
April 3, 2012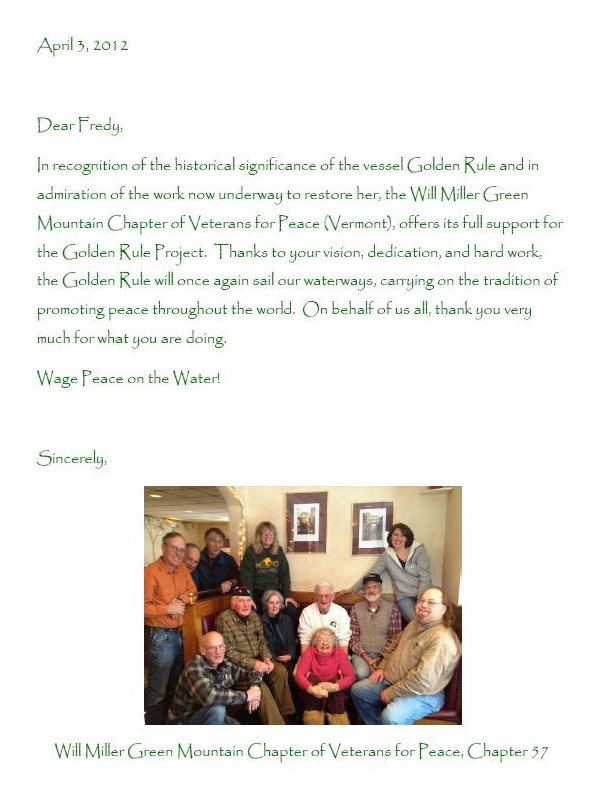 ---
Resolution of Support from VFP Chapter 69
April 10, 2012
From: Michael Wong
To: Fredy Champagne
Subject: Resolution in support of VFP Golden Rule Project Resolution on the Restoration and Voyage of the Ketch Golden Rule
Whereas the Golden Rule is now (January 29, 2012) a National Project of Veterans for Peace, whose mission is to abolish war as an instrument of national policy, and Whereas during the 1950′s the Golden Rule sailed bravely into harm's way in opposition to nuclear weapon's testing in the Pacific Ocean, and Whereas the Golden Rule was the first of the peace and environmental vessels to go to sea, down to the present day Rainbow Warrior, and Whereas the Golden Rule was crewed by Albert S. Bigelow, Orion W. Sherwood, William R. Huntington, and George Willoughby – among the most selfless peace makers of their era, and Whereas militarism and military spending gravely weaken the global economy and threaten democracy, and the true cost of military spending in the U.S. is $ 1.4 trillion dollars per year (War Resisters League, 2009), more than the next fifteen highest countries combined. Be it resolved that the San Francisco Chapter # 69 of Veterans for Peace Strongly supports the mission and goals of the Golden Rule Project and Veterans for Peace: to restore the ketch to its former glory, and undertake a ten year voyage around North America in opposition to war and militarism, and Looks forward to welcoming the Golden Rule to the San Francisco Bay Area portion of its voyage.
---
Resolution of Support from VFP Chapter 162
April 14, 2012
From: FNORMAN300
To: Fredy Champagne
Subject: Chapter 162 Passes Resolution
Fredy, I'm happy to report that the East Bay VFP Chapter 162 unanimously supports your Golden Rule Resolution… Resolution on the Restoration and Voyage of the Ketch Golden Rule Whereas the Golden Rule is now (January 29, 2012) a National Project of Veterans for Peace, whose mission is to abolish war as an instrument of national policy, and Whereas during the 1950′s the Golden Rule sailed bravely into harm's way in opposition to nuclear weapon's testing in the Pacific Ocean, and Whereas the Golden Rule was the first of the peace and environmental vessels to go to sea, down to the present day Rainbow Warrior, and Whereas the Golden Rule was crewed by Albert S. Bigelow, Orion W. Sherwood, William R. Huntington, and George Willoughby – among the most selfless peace makers of their era, and Whereas militarism and military spending gravely weaken the global economy and threaten democracy, and the true cost of military spending in the U.S. is $ 1.4 trillion dollars per year (War Resisters League, 2009), more than the next fifteen highest countries combined. Be it resolved that the East Bay Chapter 162 of Veterans for Peace Strongly supports the mission and goals of the Golden Rule Project and Veterans for Peace: to restore the ketch to its former glory, and undertake a ten year voyage around North America in opposition to war, nuclear weapons, and militarism in America, and Looks forward to welcoming the Golden Rule to the San Francisco Bay Area portion of its voyage. (Chapter) 162 loves the project…
---
Resolution of Support from VFP Chapter 39
March 4, 2012
From: Chapter 39 – Cleveland, Ohio
To: Veterans for Peace Golden Rule Restoration Team
Subject: Ch 39 support for the Golden Rule project
Chapter 39 was pleased to be able to support the Project by (1) unanimously adopting the resolution below, (2) organizing a sailing for the GR fundraiser at the Sandusky Sailing Club which raised close to $ 1,300, and (3) loaning Ch 39 member Skip Oliver to you to help with the GR. (We expect you to return him to us later in serviceable condition.)
Very Sincerely,
Dr. Skip Oliver, VFP Ch 39
---
Resolution on the Restoration and Voyage of the Ketch Golden Rule
Adopted Unanimously by VFP Ch. 39 — Cleveland, OH
March 4, 2012
Whereas the Golden Rule is now (January, 2012) a National Project of Veterans for Peace, whose mission is to abolish war as an instrument of national policy, and Whereas during the 1950′s the Golden Rule sailed bravely into harm's way in opposition to nuclear weapons testing in the Pacific Ocean, and Whereas the Golden Rule was the first of the peace and environmental vessels to go to sea, down to the present day Rainbow Warrior, and Whereas the Golden Rule was crewed by Albert S. Bigelow, Orion W. Sherwood, William R. Huntington, and George Willoughby – among the most selfless peace makers of their era, and Whereas militarism and military spending gravely weaken the global economy and threaten democracy, and the true cost of military spending in the U.S. is $ 1.4 trillion dollars per year (War Resisters League, 2009), more than the next fifteen highest countries combined. Be it resolved that Chapter 39 of Veterans for Peace… Strongly supports the mission and goals of the Golden Rule Project and Veterans for Peace: to restore the ketch to its former glory, and undertake a ten year voyage around North America in opposition to war and militarism, and Looks forward to welcoming the Golden Rule on the Great Lakes portion of its voyage before we all die of old age…